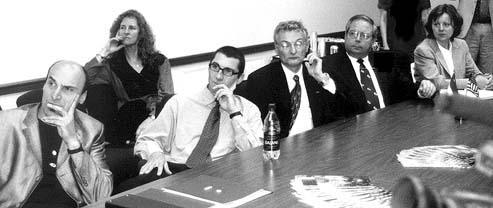 photo / video documentation - Barbara Doser © parallel media

from left to right:
Hofstetter Kurt (media artist, Director of the Sunpendulum project), Ass.Prof. Jeff Prentice (artist, Department of Fine Arts - University of New Orleans, Sunpendulum coordinator in New Orleans), Louis V. Paradise (Vice Chancellor / Provost - University of New Orleans), Philip Lorio (Austrian Honorary Consul of New Orleans), Gabriele Wolf (Manager Public Relations, Austrian National Tourist Office - New York); others present: Dipl.Ing. Dr. Christoph Traxler (computer scientist, Vienna University of Technology), Bobby L. Eason (Professor Ed.D., Assistant to the Chancellor for University Affairs)
and professors of the University.